Eckert Schools International: Gastronomy workshop for nine Vietnamese apprentices
On Monday, March 23, 2022, a workshop for Vietnamese trainees of V-Unite International took place at the hotel managment school of the Eckert schools in Regenstauf. The pilot group gained interesting insights into the training offers in the field of hotel and gastronomy.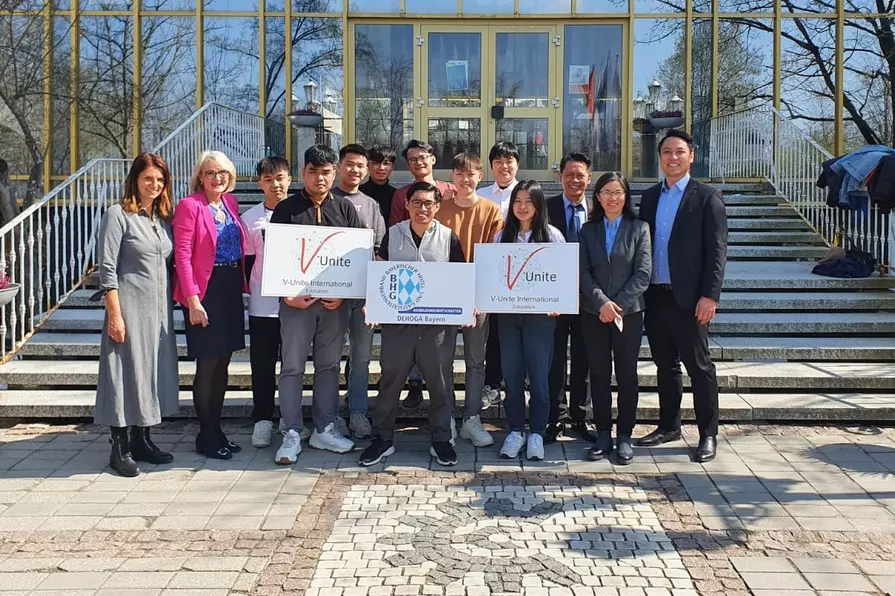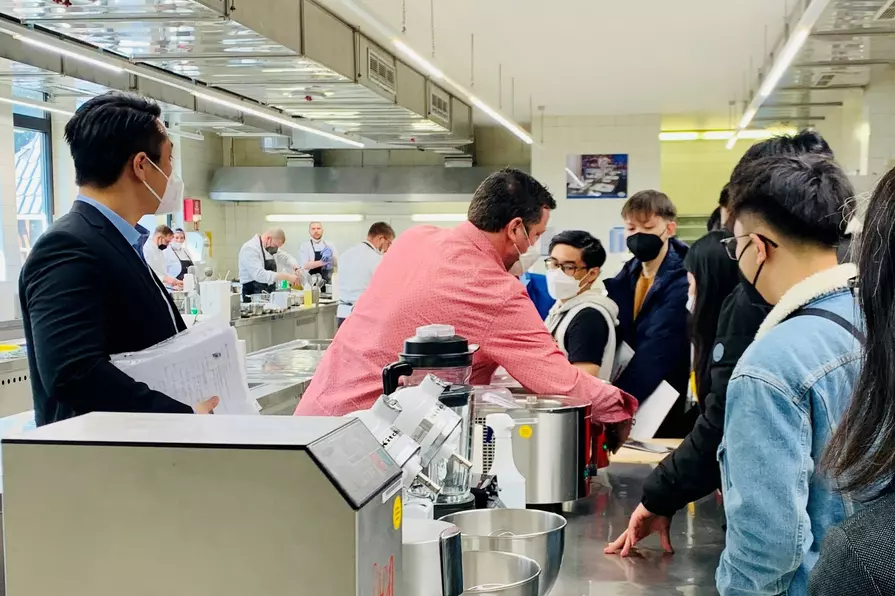 In cooperation with the company V-Unite International, the German Hotel and Restaurant Association BAvaria (DEHOGA) recruits trainees from Vietnam for hotel and catering businesses in Germany. This week, the Eckert schools welcomed nine apprentices to the campus in Regenstauf. The pilot group from Vietnam participated in a workshop on the premises of the hotel management school of Eckert schools as part of a "welcome event" of V-Unite International.
For over 40 years the hotel management school of the Eckert schools has been training specialists and managers in the fields of gastronomy and hotel industry. Therefore, they offer perfect conditions to provide Vietnamese trainees with interesting and practice-oriented insights into promising training opportunities. Mr. Haug (Head of the teaching kitchen at the Dr. Eckert Academy) introduced the participants to the equipment of the training kitchen, the equipment of the teaching bar and the service work in the so-called Festival Hall (aka Baroque Hall). Ms. Lei (Senior Project Manager international for Eckert Schools International) also welcomed the trainiees and invited the guests to a tour around the campus.
Eckert Schools International will continue to play an active role in future DEHOGA projects. It is expected to conduct a 3-month preparatory course (German language course) at the beginning of May 2022 for trainees from Vietnam who will start their training on September 1, 2022.
Starts of further trainings in 2022
In addition to the further training "Master Chef ICC" and "State-Certified Hotel Business Economist", the Eckert hotel management schools also offer courses to become "Hotel Master ICC". Restaurant and hotel masters take on positions with responsibility, and they also manage and lead employees, e.g. as "Food and Beverage Managers". The next advanced trainings for specialists from the gastronomy and hotel industry will start at the Eckert hotel management schools in fall 2022.
For more information on Eckert Schools International's educational offerings please contact Hua Lei, by phone (+9402) 502 158, by email at info@eckert-schools-international.com or online at www.eckert-schools-international.com.
back
Contact