Let the adventure begin: International Young Talents for Bavarian Hotel and Restaurant Businesses
The Eckert Schools, V-Unite International and DEHOGA are building a bridge between Vietnam and Germany. From September 2022, 43 Vietnamese trainees will support the Bavarian gastronomy and hotel industry.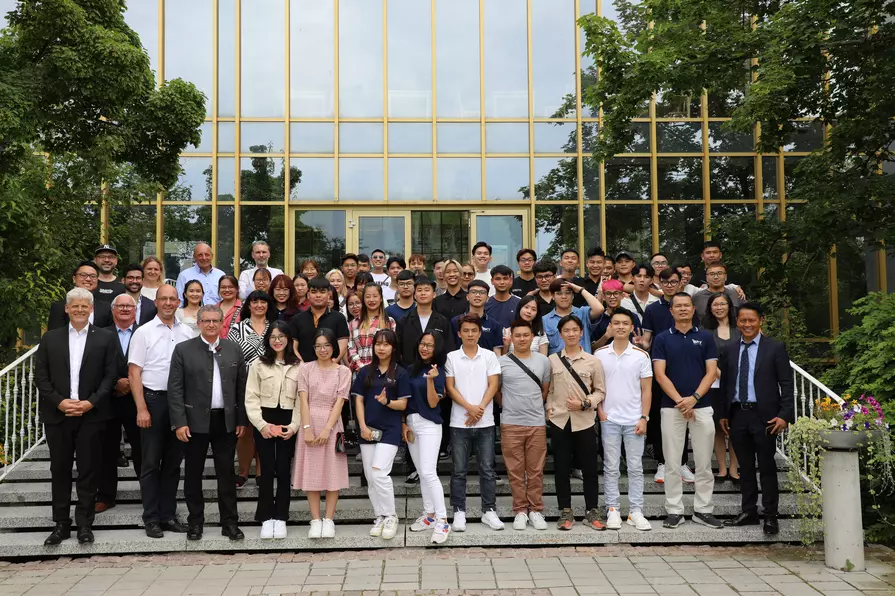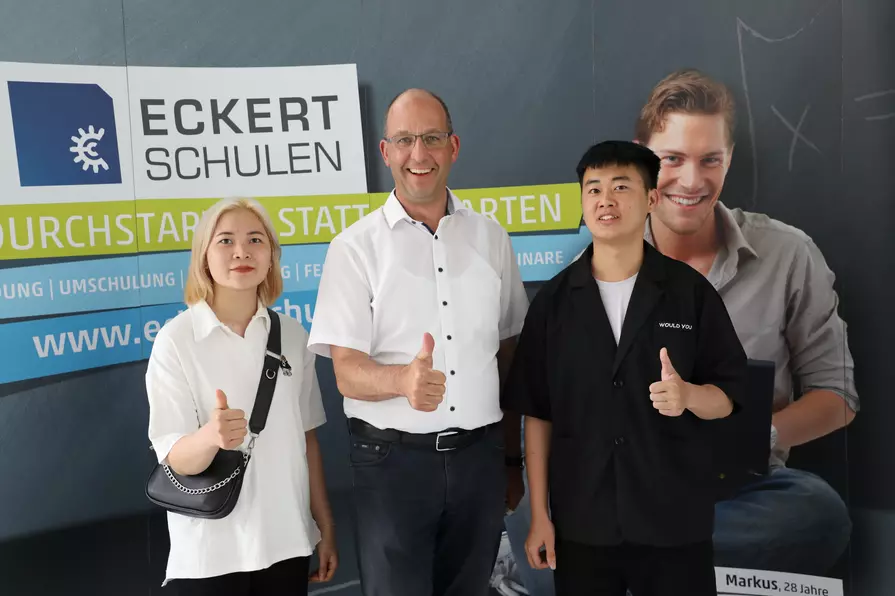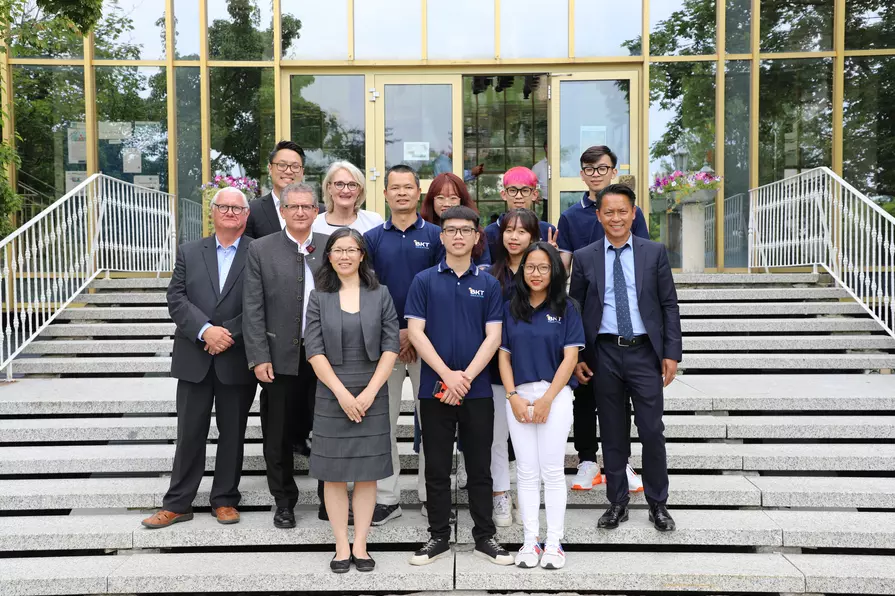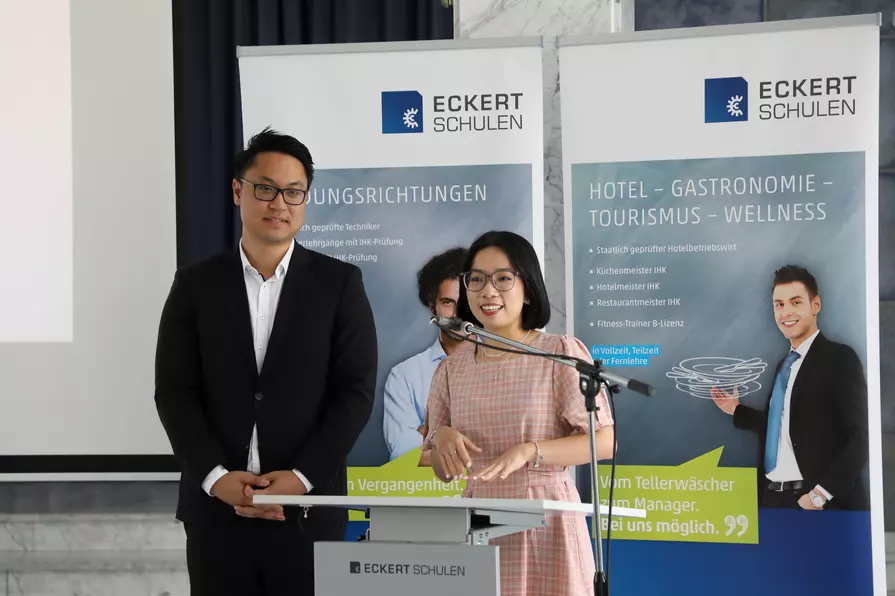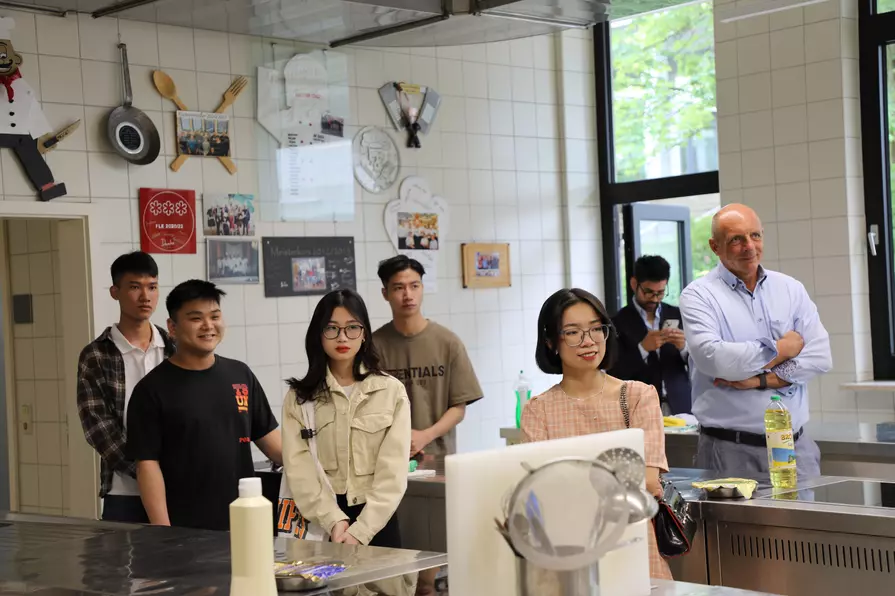 A bridge between Vietnam and Germany
Since June 2022, all Vietnamese trainees have arrived at the Campus in Regenstauf. The Eckert Schools cooperate with DEHOGA Bayern and V-Unite International. The goal: building a strong network between Vietnam and Germany.
V-Unite International recruited Vietnamese trainees for Bavarian hotel and restaurant businesses. In June 2022 fourty-three Vietnamese teenagers found themselves in the assambly hall. Curiously, the international guests listened to the welcome speech of Markus Johannes Zimmermann (Managing Director of the Dr. Eckert Academy), Gerald Saule (Head of Vocational Training International, Eckert Schools International) and Susanne Droux (Managing Director Vocational Training and Industry Promotion, DEHOGA).
The participants will complete a preparatory course (German language course B1) at the Dr. Eckert Academy and Eckert Schools International from May to August 2022. In September, they will then set off for their official training positions: all Bavarian hotel and restaurant businesses.
Representatives of the future training centers were also present at the welcome event to meet their protégés in person. "These young people are more than just a solution to the shortage of skilled workers. And we are more than just training companies. We are guides, attachment figures and friends" emphasizes the representative of the St. Georg Hotel in Bad Aibling. In total, around 150 hotels from all over Bavaria are part of the pilot project and are looking forward to the future international skilled workers. "It is a pilot project of unprecedented size. We are not only setting new standards, but also enabling new perspectives and active integration," says Son Pham (Managing Director V-Unite) about the international cooperation.
"The Dr. Eckert Academy not only offers a certified language course. We also provide comprehensive support and acclimatization in Germany," said Markus Johannes Zimmermann in his welcome speech. The stay at the campus in Regenstauf is intended to prepare the Vietnamese trainees both linguistically and culturally for their training in Germany. "The first step to feeling at home is learning the language. This step starts here at the Eckert Schools," Son Pham motivates the young people, who are still at the very beginning of their journey.
Then a special surprise guest takes the floor: Andreas Brunner, Vice President of DEHOGA Bayern, took extra time for the international guests. "My greatest respect for this courageous step into a new phase of life, thank you for your trust and welcome in Bavaria". His colleague Susanne Droux joins in the positive encouragement. "With your certificates in your pocket, you're safe. We will stand by your side and guide you to professional success."
A young girl gathered her courage and addressed some words to her peers as well. "We are still in the starting blocks and it is already a lot of fun. It won't always be so easy, but we're all in the same boat. We'll rock it and have to stick to this strong community. Lett he adventure begin" said the young trainee, who can hardly wait to start her training in Bad Aibling.
Following the speeches, a short lecture took place in the training kitchen. The hotel management school of the Eckert Schools has been training specialists and managers in the fields of gastronomy and hotel management for 40 years and thus, offered the perfect premises to provide the Vietnamese trainees with interesting and practice-oriented insights into the promising industry. "Even after completing the apprenticeship, there are numerous opportunities for further training here at the campus," Udo Haug (Head of the training kitchen, Dr. Eckert Academy) explains. He presented the equipment of the training kitchen and the training bar as well as service work in the festival or baroque hall. He also informed those present about the most popular further training courses on how to become a master chef IHK (m/f/d) or hotel master IHK (m/f/d).
back
Contact